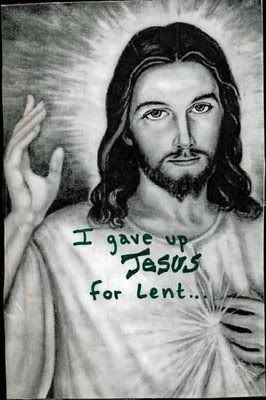 No offence to any Catholics out there, ESPECIALLY my Mom, but I saw this on
Post Secret
and just had to steal the bandwidth. Hell, you're Christians. Forgive me.
I've had a time of it. Although I'm not into believeing in the Be All And End All of Jesus, I do believe in
Yin and Yang
. When good things happen, bad tend tend to follow to balance out the living experience. I had a really good day yesterday. I slept too much, ate too much, and finally finished the first draft of my 19,000 word killing off the human race novella, tentativelt titled
Rainbow's End
. It was one of the most intense days of my life. I felt happy, at peace, totally connected with the universe and my place in it...as well as slightly nauseaous from eating half a hoagie and a cheeseburger on the same day.
Today, I tried to download a message Peter Gabriel stuck up on his official, Mac-infested website with my measely Gateway Windows XP Real Player. Oh for shame. Not only can Real Player NOT play it -- hell, they can't even RECOGNIZE it -- the damn video wiped out three quarters of my music library. Thank God/dess for backup files, or I'd be even more pissed off
than I am now
.
Not that Peter's going to be upset by this. He ever hears about one of his rabid fans not being able to access his site and he'd laugh his lovely ass off. Ah, now that's something I'm
not giving up!